10/04/2010
Heal the worrrllldd !!!! Make it a better placeeee... For ya and for me and the entire human race ( credits goes to michael J.)
There is something extra in my life !
I mean there are plenty of extra things in my life..
Gawd i feel you're already so not following the rip i'm saying ..
ANyway !
I always had " international friends".. you know like people that don't come from the same land,territory, country, part of the world, planet (?) as you.
Yeah these people do exist ! Plus, i always thought it was very good to broaden my mind, my spirit, my soul .. amen !
Of course, i always lived " abroad" and then it was prolly easier for me to make these kind of friendships than most of the folks..
But.. come on .. with internet you can make friends all over the world nowadays.. so no .. actually.. if you do not have any international friends.. shame on you .. burn in hell .. and go throw some petroleum on your self !!! i'll bring the lighter !
Let's go "in" the subject so !
The very good thing about these specific friends is that they have a different view of the world and often very diff interests..
And in a lot of ways it forces us to know about all these subjects .. because if they're friends , we actually do care about them !
This week was quite amazing tho.
My friend MTD ( she will so recognize herself) had to cancel our special " french raclette dinner" because of the Revolution in kirghizstan ( yeah i know dear reader that you prolly dont give a shit about that country and that you surely didnt know there were a country named that way ) it's a country in asia and an ex urss satellite. You definitively google it ( go get culture !!!)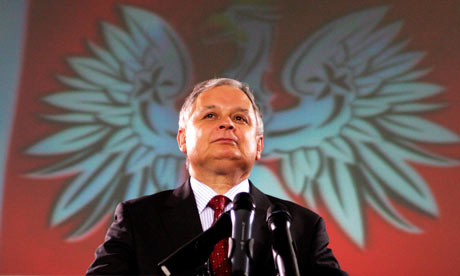 Then, in the sad news, APR, told me about the death of the evil twin kaczynski.. ex president of poland ( yeah let's face it , he is death now) that is sad and i never wish the death of anybody .. but i did'nt like the guy or at least his policies so even tho the loss is bad for him and the 132 others passengers, let's get optimistic for the future of Poland.. and No i don't believe in the conspiracy theory( cf linked to the russians).
You can actually check apr comments on Here ! she is the one living in stockholm so you can't miss her ;)
Nice testimony ;)
but let's go back to some more happy news .. Because Honestly and you know me, death and serious subjects .. are sooooo over for me lol i mean it's so 2001 !
So thanks to my international friends I also know that the 'turkish yaourt ' is using the picture of a greek man ( that is sueing the company here in sweden) Yeah Because you know even tho they quite look alike and they do have the same kind of dances and food .. they're different and they usually dont like each other...
BUT Thanks to your special friends, you also even learn things from where you live ! and so Christina, one of my very old friend from OZ told me about the swedish prince ! Carl Philip , who is basically doing nothing of his life, is dating Sofia Hellqvist a big pin up trashy girl ;)
I liked to read in aftonbladet ( a swedish "newspaper" that you can check online by the way here ) how embarrasing it would be for Sweden if the stupid useless swedish prince brings the horny reality tv show girl at the wedding of the daddy's girl , soon to be queen, Victoria the 19th of june.
Victoria is kind tho, useless too, but at least she can speaks .. not like her dad .. or her mom ...
But gosh she is gonna marry that guy .. geez christ ..
Then no wonder Sweden is going well hahah
But so, I could keep going on the obamacare, on the romanian eurovision entry, on the thai food, ... you prolly got my point like 45 mns ago !
I like that in a few days you get infos on so many countries and in so many different areas ;)
You should add to this, that you often try food from their countries (you can never pronounce it anyway) like i love that polish thing with potatoes and some kind of meat inside ! i also love that greek food with the cheese that u do in the oven ! ANd i adore the food made by Keti from Georgia ( not the us state) with kind of garlikish auberginas yuuumms !!
So, people broad your mind! Broad your circle of friends ! Get new ones! Get them coming from far away ! get them different ! Your life will get so much better ;)
17:24 Publié dans International News | Lien permanent | Commentaires (3) | Tags : international, international friends, kaczynski death, poland, france, sweden, greece, kirghizstan, revolution, chocolat, coca cola, turkish yaourt, oz